What makes titanium flashlight so sought-after?
Probably you have noticed the titanium EDC gear is really popular. Maybe you are wondering why people are willing to pay quite a lot for a titanium flashlight. However, probably you would also be impressed by the sleek,
splendid appearance and awesome metal
texture.
Besides the stunning look, titanium is tougher, which makes your
titanium EDC flashlight more durable and rugged.
In addition, titanium is resistant to corrosion, rust and d
oesn
'
t rub off nor wear, which make it easier
to maintain for consumers
.
Brief Description
M
3
is a
ultra-durable, powerful and compact LED torch made of super tough titanium for everyday carry, camping, hiking or collection.
With power source of one disposable CR123 lithium battery or rechargeable RCR123A li-ion battery together with a CREE XP-G3 S4 LED, the max output is up to 700 lumen and max run time 72 hours (3 days). The featured metal switch button and excellent heat dissipation
knurling offer additional reinforcement and reliability. Furthermore, M3 features easy portability by
small size with length of only 51mm.
What scenarios will the bright titanium light M3 be used?
✅
Everyday carry as a backup light for night walk, self-defense, sundries search or anytime when you need brightness
✅
Collection or gift
✅ Camping, hiking, reading and etc
✅ Working as a sign in darkness to get yourself visible
What makes the ti flashlight M3 so great and competitive?
✅
Titanium body for better strength-to-weight ratio and durability
✅
Anti-corrosive and anti-rust
✅
Compact and lightweight for easy carry

✅ Extremely reliable for all weather
* IPX8 waterproof (2 meters under water) and dust-proof
* 2 meters impact resistant

✅ Cost-effective and convenient for daily use
* Coming with one RCR123A cell with Micro USB port for easy charging, no need of a separate charger
* Coming with clip and lanyard for easy carry and hands free
✅ Extremely safe and reliable with intelligent circuit design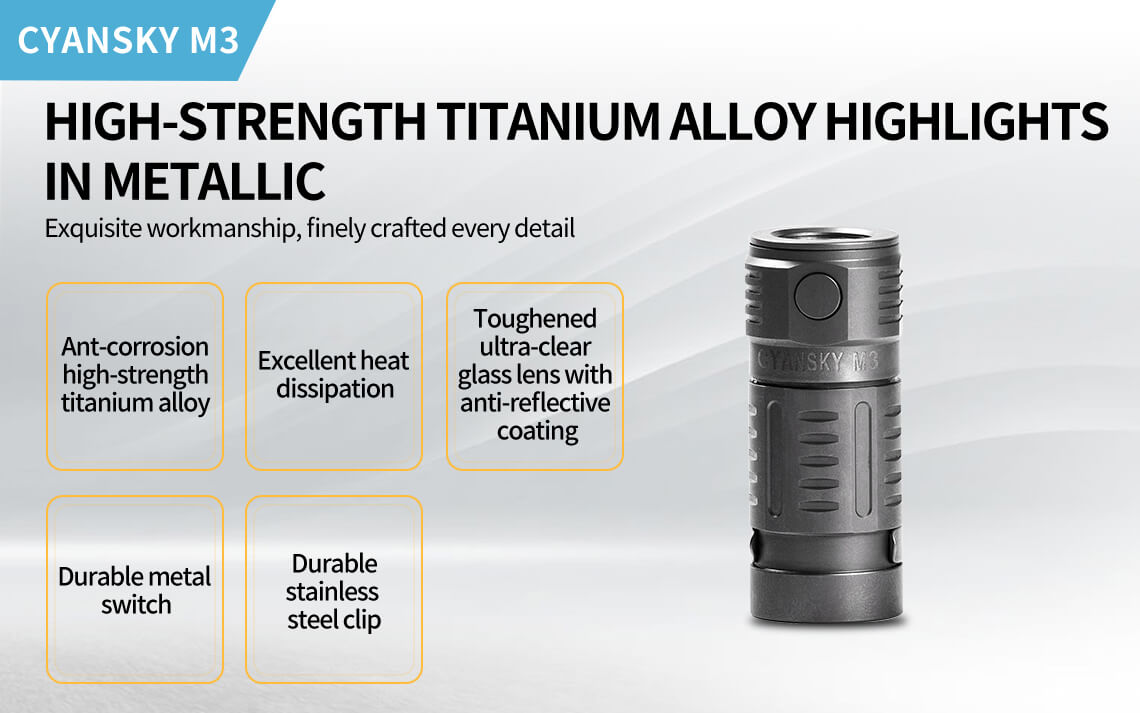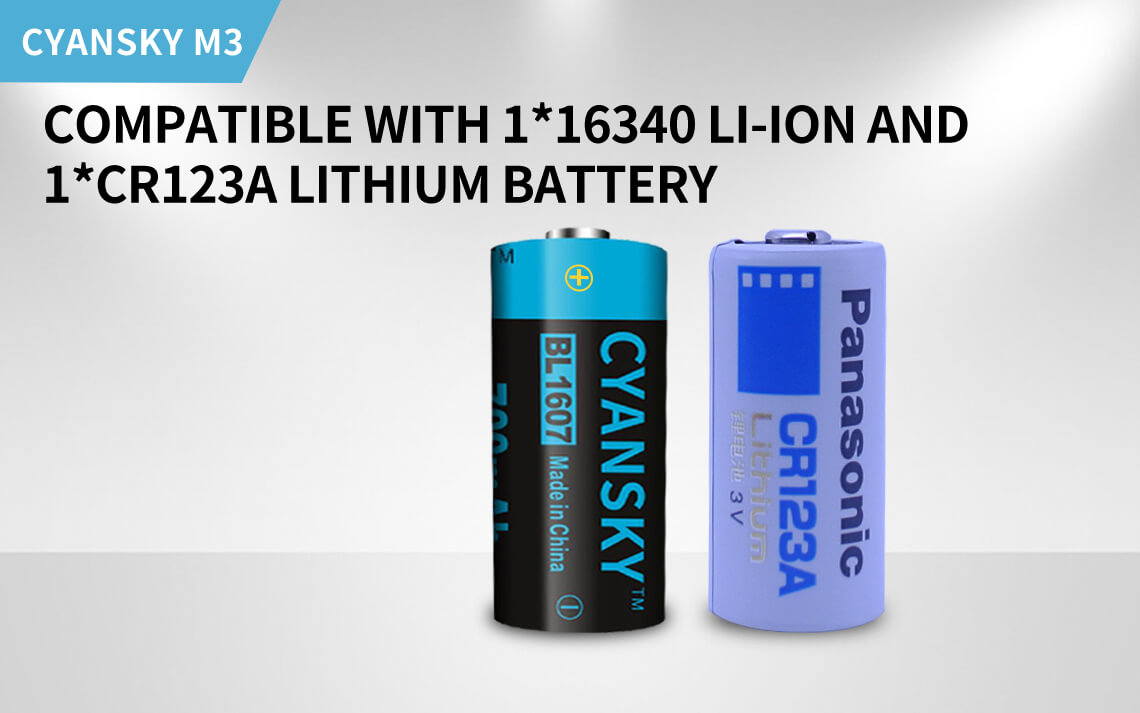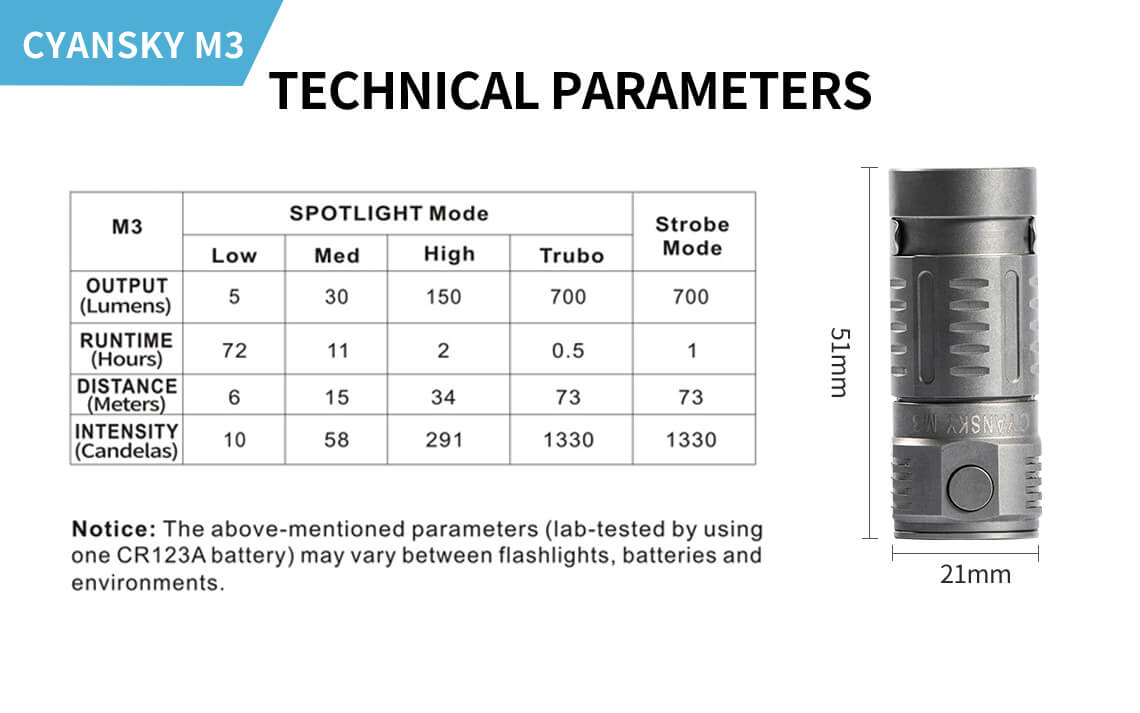 Spec:
| | |
| --- | --- |
| Material: | Rugged titanium |
| Color: | Titanium grey |
| Weight: | 30 g/1 oz (excluding battery) |
| Diameter: | 21 mm/0.82 in |
| Length: | 51 mm/2 in |
| Battery: | 1*CR123A/1*RCR123A |
| LED: | One CREE XP-G3 S4 |
| Max Runtime: | 72 hours/3 days |
| Max Beam Intensity: | 1330cd |
| Max Beam Distance: | 73 meters/239 feet |
| Max Output: | 700 lumens |
| Switch: | Metal Side Switch |
| Modes: | Turbo-high-med-low-strobe |
| Warranty: | 5-year free warranty |
The real discharging curve of titaniumM3:

What you will get:
✅ The top quality titanium light M3
✅ Lanyard
✅ 700mAh 16340 battery BL1607 with Micro USB charging port
✅ Charging cable
✅ Spare o-ring
Titanium VS Aluminum

Titanium pros
✅ Stronger
✅ More popular for collection, especially in limited edition for aesthetic reasons. Titanium pen, knives, lighter, titanium keychain, torch and such type of titanium edc items are sought-after.
✅ Bare titanium is resistant to corrosion and rust while aluminum needs anodizing finish
✅ No worry for rub off nor wear with easier upkeep for consumers
Titanium cons
✅ Heat transfer is good but not as good as aluminum, so high power light with higher voltage is more common on aluminum lights while titanium is more wise choice for mini and compact lanterns.
✅ The conductivity performance is not as good as aluminum.
✅ Light but a little bit heavier than aluminum
✅ More expensive than aluminum in material and CNC machining. You can get both titanium and aluminum torches in different colors, such as black, red, blue and etc, but the machining cost would not be the same.

In short, sure each of them has advantages and disadvantages. You can see what you care about most and choose your best accordingly.
Shipping and Delivery
To provide prompt shipments for our distributors, we generally get certain amount of safety stock available which can be shipped right away. However, for exact delivery date, kindly please just contact us at your convenience.

As close partners of our forwarders, we can get the best price and service. If you need a fast shipping way, we would be using DHL, UPS or FedEx. If you prefer a lower cost, we can also do air or ocean shipments.
Warranty Policy

✅ 5 year free warranty
The light will be repaired for free during this time if the failure is caused by material or workmanship. A new light will be provided in case the defective one cannot be repaired.

✅ Lifetime limited warranty
What certificate does the pocket light M3 have?
We have CE, FCC and WEEE (Waste Electrical & Electronic Equipment) certifications.
Is private label possible?
Yes, we can offer private label service with laser of your logo as well.
Where can I buy M3?
For personal use, please purchase directly on our online store https://cyanskylight.com/products/cyansky-m3-titanium-edc-flashlight or contact us for the dealer information near you.

For wholesale, please email us for the best offer.