21700 Flashlight P25 Product Introduction:
P25 is a 3000 lumen lantern powered by one 21700 battery or 18650 battery with one CREE XHP70.2 LED. The 5 modes design - turbo, high, med, low brightness level and strobe makes it great for different applications including hiking, camping, searching, self-defense. Featuring impact resistant, IPX8 waterproof and frigostabile, P25 is an ideal tool as a high power led searchlight or police security light in all season and all weather.

What scenarios will the 3000 lumens led light P25 be used?
✅ Handheld led flood light for searching, hiking, camping and etc;
✅ High power police security high intensity flashlight
✅ Self-defense gear for emergency
What makes waterproof led torch P25 so competitive in the market?
✅ Top lumen-size ratio - max 3000 lumens VS pocket size
✅ Long-last with run time up to 150 hours
✅ Extremely durable and reliable for all weather and all season
* IP68 waterproof (2 meters under water) and dust-proof
* 2 meters impact resistant
* Capable of temperature from -22℉ to 122℉
✅ Cost-effective and Convenient for Daily Use
* Coming with one 5000mAh 21700 battery with type-c port for easy charging
* Coming with clip, lanyard and holster for easy carry and hands free
* Compatible with one 21700 or 18650 battery
Spec:
Material: Rugged aluminum with type HAIII hard-anodized anti-abrasive finish
Color: Black
Weight: 88 g/3.1 oz
Tail Diameter: 26 mm/1 in
Head Diameter: 29 mm/1.14 in
Length: 147 mm/5.78 in
Lighting Angle: Flood (about 90°)
Battery: 1*21700/1*18650/2*CR123A
LED: One CREE XHP70.2
Max Power: 30W
Max Runtime: 150 hours/6.25 days
Max Beam Intensity: 9220cd
Max Beam Distance:192 meters/629 feet
Max Output: 3000 lumens
Switch: Tail and side metal switches
Modes: Turbo-high-med-low-strobe
The real discharging curve of 21700 flashlight P25:

What you will get:
✅
The really bright led flashlight P25
✅
Lanyard
✅
Holster
✅
5000mAh 21700 battery BL2150
with type-C charging port
✅
Charging cable
✅
Spare o-ring
✅
Spare rubber cap
For more details, please check the video
here
.
18650 vs 21700
Slightly different in Size
18650: 18 mm in diameter and 65 mm in length
21700: 21mm in diameter and 70mm in length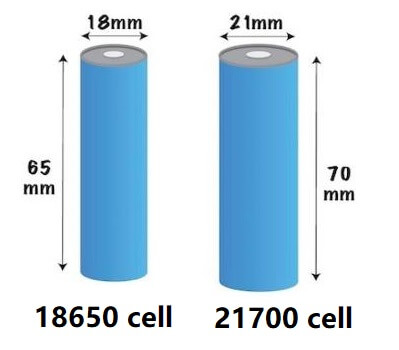 More energy capacity for more lumens and longer last than 18650s
Are you seeking for a high lumen LED light with longer runtime but still in portable size? If yes, then 21700 lights would be a wise option for you. The capacity of
18650 batteries range from 2000
mAh
up to 3500
mAh
.
The 21700 battery is just slightly larger, but
you can expect mAh's to range
from
3000 up to 5000 mAh's.
This means your 21700 search lantern will last
longer and be more powerful
, with
compact size
for
easy EDC carry
or operation.
CYANSKY P25 provides long run time up to 150 hours - 6.25 days and max output up to 3000 lumens!
More Energy Density
According to Tesla,
p
ower density of 21700
batteries can
go up to 300 Wh/kg, which is about 20% more than current
1
8650 batteries that rates at 250Wh/kg.
Thus,
the
power density
of
21700 batter
ies
is better than
that of
18650 batteries.
This means, to achieve same energy, less batteries will be needed for 21700 than 18650.
In many cases, we have to accept a compromise on portability to achieve longer run time and brightness. But with 21700, the
lantern will reach higher output and last longer in similar size of 18650 lights. Thus, i
f you are looking for illumination tools that can still light up a room after a couple of days, then
go for
a 21700 torch.
A little bit more expensive than 18650s
Generally speaking, buying
21700 would cost a little bit more money than 18650. The rough price for a 5000mAh 21700 is about $20 while a 3500mAh 18650 would be around $15.
Tesla's latest battery
Actually, 21700 is becoming more and more popular in market now
and it has also been the new choise of Tesla. I
nstead of the smaller 18650 cells used in Model S and Model X, the
new
21700
Li-ion
cell is used in the Model 3
.
Battery makers Sony,
E fest
, Panasonic, LG, and Samsung
are also
mak
ing
21700 Li-ion cells
.
Conclusion
If you like the brightest tool in portable size and budget is ok, then 21700 would be a great option. But if you prefer a basic and more cost-effective gear, then 18650 would fit you better. However,
just no worry in any case because CYANSKY P25 is compatible with a 21700 and 18650 battery.
Shipping and Delivery

To offer better support for our distributors, we normally have a certain amount of safety stock available which can be sent right away. However, for exact delivery date, please kindly ask our salesman for help before placing the order.

We have forwarder partners who can offer the best price and service. If you need a fast shipping way, we would send by DHL, UPS or FedEx. If you prefer a lower cost, we can also do air or ocean shipments.
What certificate does the high lumen LED light P25 have?

We have CE, FCC and WEEE (Waste Electrical & Electronic Equipment) certifications.

Is private label possible?
Yes, we offer private label service with customer's logo as well.

Can I buy P25 on Amazon?
Sorry we do not sell on Amazon or online store/shop right now. If you need just one or two for personal use, please kindly contact us so we will recommend the dealer near you.

Is P25 USB rechargeable?
No, the waterproof torch P25 is not USB rechargeable. But you can do charge the battery included easily with the cable. There is a type C port on the battery.